Spirit Feathers Take Flight
by Renee Andor - Special to the Comox Valley Record
Stained glass artist Loris Nygaard
Comox artist Loris Nygaard got the idea for her latest stained glass creation while walking her dog at the beach.
"It just dawned on me, feathers; feathers are a beautiful thing," says Nygaard, noting she felt immediate enthusiasm for creating spirit feathers as soon as she came up with the idea. "Your mind can be released to all sorts of elevation, flight, fantasy."
"What I think is special about them is the spiritual connection people feel either holistically ... or for gifts for births or weddings or new homes, they just have that gift about them ... You feel the gift of love."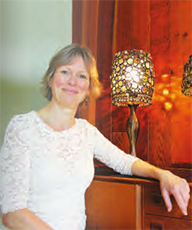 Colours and symbolism are hugely important to Nygaard. The spirit feathers feature various colour combinations, some designed to make the viewer feel vibrant and energized and some soothing and calming, for example.
The feather itself symbolizes a new beginning, spiritual evolution, inspiration and good fortune, according to Nygaard. As well, she clusters feathers with other symbols, such as antique skeleton keys.
"[With a key] you can unlock your future or unlock the door to the past and let it go, or lock it up ..." she explains. "The key symbolizes your control."
Facetted crystals, optical trial lenses from the 1800s, old watch gears, and arrows are a few of the other symbolic materials she incorporates with the feathers.

Nygaard has been creating art since she was a child and she could pick up needle and thread; she decorated her clothes by embroidering them. When she was a young woman living in Victoria (where she grew up), she bought a bag of clay and started creating pottery and firing it at a local ceramic shop.
She eventually bought her own kiln and delved deeply into pottery, focusing on using odd shapes and intricate designs in her work.
At 30, she moved to Gold River with her then-husband and their kids, and that is where she took a stained glass course and her love of this medium took hold.
Over the years, she's created various lighting fixtures, like table lamps, wall and ceiling fixtures, and hanging fixtures, using the light to illuminate her colourful and intricate designs and splash them onto walls or ceiling space. The light fixtures create differing energies using colour and light therapy, according to Nygaard.
She also makes smaller pieces of stained glass art like little angels and a selection of animals. Whatever she's creating, Nygaard's goal is for it to be different.
"I just don't do anything common; I'm one of those kind of wild ducks," she says with a grin, adding that changing and challenging traditional designs and ways of creating art is something she lives by.
Making art is fulfilling for Nygaard, who says that seeing each step in a piece's progress and its completion is extremely rewarding.
"A finished product, that's like just getting yourself a new piano, or guitar or car or dress or shoes or whatever you really wanted," she says. "It's a rush."
Nygaard has lived in Comox since 2003. For more information about her and to view samples or her work, visit www.lorisdawn.com.