Trio Spring 2015
Spirit Feathers Take Flight
Comox Valley Record
Flick Switch
Boulevard Magazine
Jewels of Light
InFocus Magazine
Artistic Gem
The Daily CityFood
Lights On!
Glass Art
Art Glass Profile
Magazine version [PDF]
Glass Art
Art Glass Profile
Web version [PDF]
Awards Received
Jewels of Light
Loris Dawn Nygaard creates hands-on art
By Robert Moyes, Boulevard Magazine, November/December 2004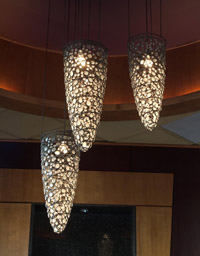 At 30 inches in length, these hanging lamps set with clear gems give off a soft glow at Hugo's Lounge. Artist and designer Loris Dawn Nygaard recently added stained glass door inserts to her growing repertoire of work.
MOST CUSTOMERS of Rogers' Chocolates who visit the Government Street store can barely take their eyes off those hockey-puck-sized Victoria creams long enough to admire the storefront's stained glass windows and awning, handsome examples of so-called art glass that effortlessly evoke the Victorian era. Jumping ahead a century, and making a quick eastward jog to their sister shop on Oak Bay Avenue, gorgeous stained glass is a feature there as well, in the form of three chandeliers and four pendant lights. Although these vivid fixtures fit right in with the shop's old-timey ambience, they were custom-made just three years ago by Loris Dawn Nygaard, a Victoria-raised artist who recently resettled in Courtenay.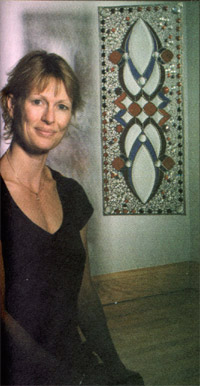 Photo by Gary McKinstry
An award-winning designer whose work can also be seen at Hugo's and the Strathcona Hotel's Clubhouse, Loris is putting a fresh stamp on an art form that has been around for hundreds of years. Art collectors with long memories may recall when Loris started selling pottery at Out of Hand and The Quest in the late 1980s. Not long after, a basic course in stained glass allowed her to make a natural progression to this different medium: not only did she love the intense, jewel-like colours, but she was also able to incorporate the kind of flowing design and organic shapes that had always come off her potter's wheel. Loris, now becoming self-taught, spent the next 12 years in Gold River exploring the world of stained glass and gradually refining her self-expression in this lapidary medium. Although stained glass has been a craft-fair staple for decades, Loris believes that what makes her work unique is the wire filigree component, which she began using six years ago. "Other stained glass pieces are just colour sections connected with solder; there's no 'air' and no design flow," she explains. By contrast, Loris's filigree has an organic sensibility that to a certain extent exists independently of the gem-like glass stones that are set into her compositions with a jeweller's precision.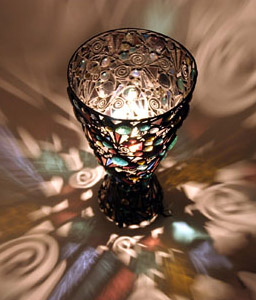 This brilliant chalice, featuring a base of triangles and gems, shows off its intricate filigree design. (Photo by Boomer Jerritt.)
Loris has made a name thanks to her unique approach to stained glass, including twice being a grand winner of Québec's annual Glastar Art Glass Competition, a prestigious international event. This restlessly creative artist fabricates everything from table lamps (both cubes on wrought iron legs and pedestal-based globes reminiscent of crystal balls), wall sconces, hanging pendants and chandeliers to candle collars, room dividers, firescreens and, most recently, stunning "door inserts" - stained glass panels that update the bevelled inserts common decades earlier. Ranging from traditional Celtic knot patterns to that signature Loris Dawn look, these dramatic door brighteners can also be complemented by long, oval side windows spanning the height of the door.
Despite being a follow-your-muse artist and a thoroughly modern woman - she's a single mom with three kids and a strong entrepreneurial streak - Loris has a profound connection to the past via her interest in Victorian and Edwardian design and materials. Her delicate, intricate and ornate pieces are redolent of Art Nouveau, Art Deco and Arts & Crafts, while the wire filigree and the mounts recall Victorian wrought iron gates and fancy pedestals.
The level of craftsmanship, too, seems from an earlier era. "What I do is incredibly labour-intensive," says Loris, who can easily spend a couple of weeks on one piece. For starters, the filigree wire is triple-coated with solder to give it more heft and smoothness. As well, the coloured glass nuggets are polished and then ground around the edge so that the copper foil can "grab" it permanently, thus ensuring that her lamps and other pieces are durable enough to be handled for decades. "At present I get my glass gems in 100-pound lots from Québec," notes Loris. "Eventually I'll get a kiln, so I can make my own pieces, especially ones with unconventional shapes."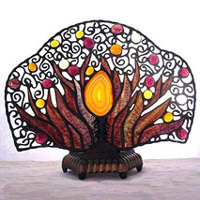 This dramatic fan lamp produces splashes of sparkling colour, creating a welcoming and fun ambience.
In Loris's hands, stained glass is in some respects a genteel version of a '60s light show, and she expects that anyone who buys one of her pieces will place it effectively. "With one of my bigger globes you can get a 12-foot radius of colour splashed across your ceiling. "When you turn it on, it turns you on," she adds with practised ease. According to Loris, her lamps are more dramatic than conventional stained glass because the gems are so much thicker than typical glass. "It creates a unique ambience," she says. "I had one customer who went neutral with her room tone, then used one of the globes as the primary way to colour and decorate her room. She loved the effect." Depending on the design and the location, the lamps can be soothingly subdued or present a kaleidoscopic light painting as vivid as a peacock's fan. Although Loris's grandest pieces cost up to $1,900, her $50 candle collars - which, thanks to the flickering flame, cast a less intense but ever-changing wash of colour - are an eminently affordable way to brighten decor and add visual interest.
If her pieces have mandala-like hints, it's not surprising considering the degree to which Loris is intrigued by Eastern ideas about how colour dominates our experience of the world and affects our moods. She is aware of the theories of ancient Chinese, Indian and Tibetan colour and light therapy, and she believes that the different wavelengths - the different colours - of light aren't just seen, but are also felt. "Colour has a profound effect on us, physically, emotionally and spiritually," she says. "By combining the different colours of the spectrum you can balance and even enhance the body's energy."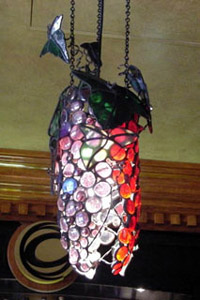 This grape-cluster pendant light has three-dimensional leaves and twigs "growing" up the chains that suspend it.
Although her designs have little in common with those of the legendary Louis Comfort Tiffany, whose renowned mosaic lamps from a century ago brought decorative art up to a new level, Loris keenly respects that legacy and aspires to the creation of "heritage" work that can also be passed down to succeeding generations. "I want to get away from the standard lamp-as-object notion. I want it to be 'art," she asserts. A perfectionist who invites creative inspiration and won't sell a piece unless she is entirely pleased with it, Loris also has a pragmatic side, priding herself on making practical pieces that are robust enough to survive daily use. "What I produce isn't fragile," she says. "You can wash it under the sink, take a toothbrush to it to get any dust out of those tight little corners. This is definitely hands-on art."
The Gallery at Mattick's Farm still carries work by Loris, and there's a window display of her work slated for early November. But mostly the artist is selling directly out of her Courtenay studio, using her website (www.lorisdawn.com) and related digital technologies to reach distant clientele. Her door inserts have resulted in a new market in commercial and residential real estate, which complements a relationship she has with three interior designers who promote her work to a whole different category of customer. And heeding the slogan about "think big or stay home," this fall Loris is developing a glossy catalogue for prospective customers, one which will also be used as a self-promotional calling card for any up-market interior designer that Loris desires to court.
"Ultimately, it's not about the money so much as the self-expression... and indulging a bit of ego," she says with a laugh. "The fun for me is when people see what I've made for them. I love to hear that 'Wow!'"
Robert Moyes, a local writer with a taste for beautiful things, is grateful that Loris Dawn has made a trip to Rogers' Chocolates a cultural and not just a culinary indulgence.