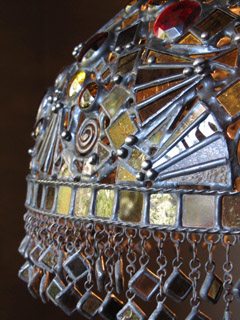 Each of my handcrafted pieces of artwork comes with a satisfaction guarantee.
They are highly durable and constructed with outstanding quality. Each glass gem is ground before being securely wrapped with copper foil. Each tassel is wrapped with wire, and each tassel and each link is soldered closed for permanence.
The intention is for your art to endure time and be loved vivaciously for generations.
Maintenance and cleaning are relatively easy when your art piece becomes dusty. Simply remove the artwork from the light fixture and hold it under warm running water (never use cleaning agents), while gently using a soft cloth and tooth brush to remove the dust. Buff dry.
You will undoubtedly be delighted to own one of these distinguished, one-of-a-kind, handcrafted pieces of art. There is no comparison to the unique artwork of Lorisdawn Designs currently available on the market.


Loris Dawn Nygaard

you can also find me at facebook.com/thelightsthatturnyouon