When custom orders are received, if you wish, I can delineate with my digital camera, taking photos as we choose colours and allow you to become a part of the process, or I welcome you into my studio in The Comox Valley, BC. Your piece of art becomes very personal to us both, and you'll be sure to love what we have created in the congruent fashion.
After our initial consultation, I'll provide you with a few design concepts and cost estimates in Canadian funds. After you have decided upon your desired art, a contract and 50% nonrefundable first payment is made, the construction stage begins. At this point checks and money orders are accepted. You can view your artwork in progress in my studio, either in person or via digital photos. When your glass art is completed, I will ship your artwork then receive the fee balance and any insurance, shipping and handling charges.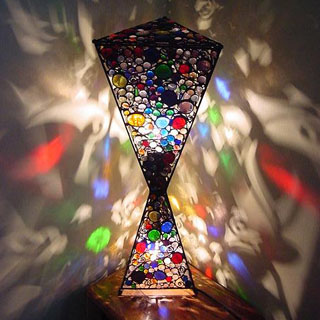 I am generally booked weeks in advance, so it's important to contact me with your ideas early and we can discuss colours and shapes.
It takes an abundance of time to grind and foil each gem before I can begin to sculpt your light or window panel. Be sure to keep this timing in mind when ordering.
Prices vary from $65.00 candle collars to small mini pendants of approximately $200.00 to large illuminated art pieces ranging from $200.00 and up. Window panels range from $150 and up.
Everything is flexible upon design and products used. The spacing of the gems, crystal jewels, size and amounts of cut/ground/foiled glass and the swirling filigree also determines the pricing.


Loris Dawn Nygaard

you can also find me at facebook.com/thelightsthatturnyouon