Lights On!
By Rhonda Marie May, The Daily CityFood, February 22, 2006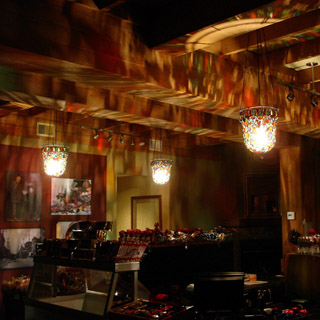 The next time you are in the new Rogers' Chocolates store at Granville Island, look up and check out the overhead light fixtures. The brilliantly coloured chandeliers you will see suspended from the ceiling are the creations of artist Loris Dawn Nygaard, a resident of Comox on Vancouver Island.

Nygaard's designs, a fusion of lacy wrought-iron and multi-coloured pieces of glass are meant to resemble a kaleidoscope of precious and semi-precious gemstones, but we think the coloured bits look like lollypops, crystal peppermints and other forms of fruit-flavoured, hard candy. In the Granville Island store, the metalwork also incorporates small spirals that recalls licorice All-sorts.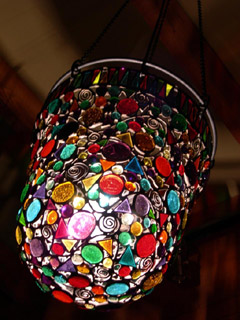 The design is particularly appropriate for Rogers, not just because of the association with sweets, but also because the chocolate boutique, being one of the oldest operating companies in the province, would have featured stained glass lamp fixtures in its original store in Victoria at the turn of the last century. These light sculptures serve as a modern interpretation of that era and the company's heritage roots.
Perhaps Rogers will use Lorisdawn Designs once more when they complete the newest outlet they have planned for Gastown (as part of their recent expansion into the Vancouver market). But they are not Nygaard's only clients in BC's food industry. The award winning artist, whose sister Sandy owns Nygaard Interior Design, also has some of her handcrafted pieces featured in such places as the Ross Bay Pub, Strathcona Hotel, and Hugo's Bar and Grill in Victoria.
A believer in the ancient Ayurvedic theory that patterns of light and interrelationships of colour can influence one's energy and sense of well being, Nygaard will inform you that each colour emits its own unique energy vibration and should be taken into consideration when planning for your home or business environment.