Flick switch, light candle to bring colours alive
by Paula Wild - Comox Valley Record. Posted Feb 12, 2014
"Light changes your energy and space," says illuminated glass artist Loris Dawn Nygaard.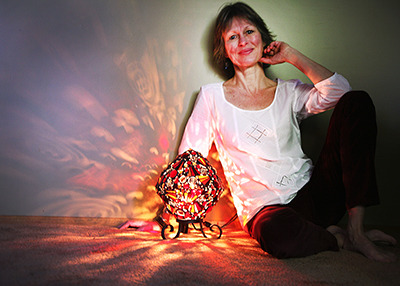 Loris Dawn Nygaard lights up her own life. Her colourful glass creations do the same for other people. (Image creditErin Haluschak)
And the jewel-like colours linked by delicate filigree in Nygaard's art are guaranteed to do just that.
For 23 years, the single mother of three has focused her artistic drive on colour and shape to create unique designs that come to life with the flick of a light switch or the lighting of a candle.
The award-winning artist's work was commissioned for installation in the last nine stores opened by Rogers' Chocolates and is currently on display in Martine's Bistro in Comox.
Nygaard's table and ceiling lamps, wall fixtures, candle collars and other objects d'art draw the eye with their gentle, yet vibrant glow. These lamps are not for reading by, instead they create a striking yet subtle ambiance that soothes the spirit and stirs the soul.
Nygaard prefers to let each piece evolve on its own. That means no templates and a one-of-a-kind concept each time around.
"The design is a puzzle I pull together," she explains. "I'm inspired by colour and shape and then become totally absorbed in the process."
During the interview, Nygaard scattered a few glass gems on a table then rapidly arranged them into several intriguing patterns. You could literally watch the creative process kick in.
Nygaard began her artistic pursuits in Gold River, where she made pottery featuring mosaic-like designs, but illuminated art has taken all her attention for some time now.
For the past 11 years the Comox resident has worked out of her garage studio.
"I do a lot of residential and commercial commissions," she says. "And with the Internet, people don't have to live in the area."
That said, Nygaard welcomes prospective customers to her home to see her work in person.
"People love tracing the curved shapes with the hands and running their fingers through the glass tassels," she says. "My work is tactile as well as visual."
Nygaard's portfolio contains illuminated art that is sophisticated and contemporary, as well as pieces that resemble heirlooms from the past. Textured glass, an old ship's lantern and antique optical lenses have also found their way into her work.
"I've learned by experiment," she says. "Being self-taught may mean it took me longer to figure some things out but it also means I haven't been influenced by anyone else's style."
Nygaard's never short on inspiration or motivation but time is a challenge. She grinds the glass, attaches the foil and twists the wire into filigree herself. She recently started making her own fused glass gems.
"I wish there was another day in the week," she says. "I'd love to devote more time and energy to my art."
To find out more and see samples of Nygaard's illuminated art visit
www.thelightsthatturnyouon.com or www.facebook.com/thelightsthatturnyou on.com. Or meet the artist at Martine's Bistro, where she works several nights a week. Nygaard can be contacted at lorisdawn@shaw.ca.
Paula Wild is a published author and regular contributor to the Comox Valley Record's arts and entertainment section. www.paulawild.ca.