A Spirit Feather symbolizes a New Beginning, a Spiritual Evolution, Divinity, Inspiration, and Good Fortune.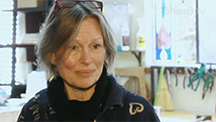 A recent interview on Shaw TV with
Kate Brown about my Spirit Feathers
Whether you choose the Spirit Feather that catches your attention and awakens you, or your loved one chooses one for you, it is a gift that will surely enlighten you. Your Spirit Feather will always remind YOU that YOU are loved.
From the moment I conceived the idea to create Spirit Feathers, I felt an overwhelming source of enthusiasm and positive energy.
I knew I had discovered a form of creating attractive combinations of vibrant colours in a form that also brought a sensation of Spiritual energy to me.
I LOVE designing the Feathers and embellishing them with natural beads and leather. I LOVE the response and reactions I have been feeling from all of my encounters who have chosen their Spirit Feathers.
My Spirit Feathers are created in limited editions.
I create 10 to 20 of one colour combination. The following edition I choose a different combination of colours for that particular pattern.
They are 6"-9" long. Sold separately or in clusters hung from driftwood from my local beaches or wrought iron rings.
I create very large (18"-22") detailed individual feathers, as well as very small feathers.
I have an eternity of ideas bubbling inside, waiting only for moments in time to come alive.